LiveHeats allows you to increase or decrease the weighting or points allocation of an event in your rankings with our Ranking points multiplier feature.
This is useful for events such as double points events - or different levels of events in a series (e.g. 1 star, 2 star, 3 star). When you use a ranking points multiplier, it multiplies the points for every position by the number you choose.
To edit the Leaderboard multiplier for an event, go to the Event settings > Rankings & leaderboards > enter a number in the Ranking points multiplier field > select update event.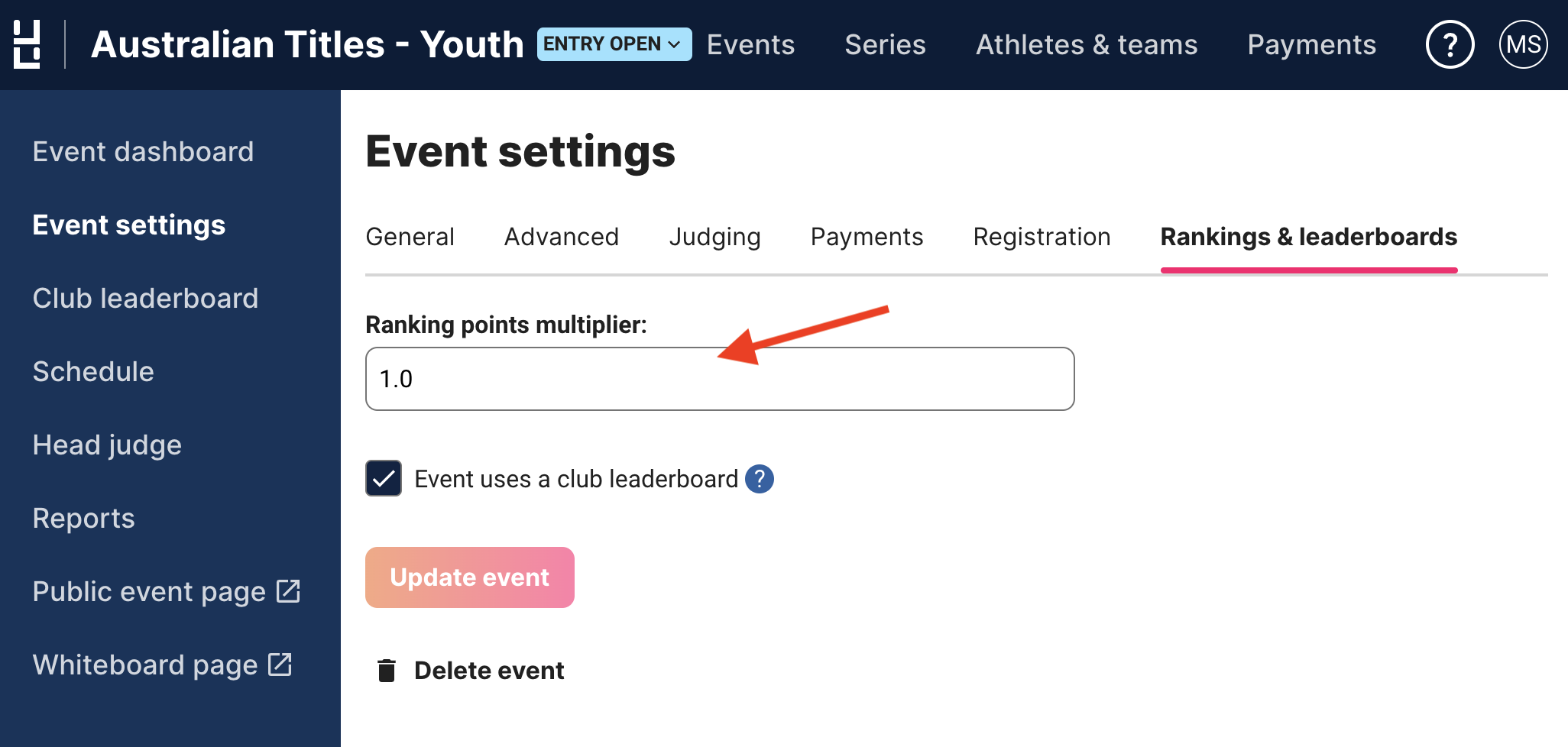 Here's an example of what the points allocation would be in two different Leaderboard multipliers (2, 0.5).
| | | | |
| --- | --- | --- | --- |
| Place | | Leaderboard = 1 (default) | | Leaderboard = 2 | | Leaderboard = 0.5 | |
| 1 | 1000 | 2000 | 500 |
| 2 | 860 | 1720 | 430 |
| 3 | 730 | 1460 | 365 |
| 4 | 670 | 1340 | 335 |
| 5 | 610 | 1220 | 305 |
| 6 | 583 | 1166 | 292 |
| 7 | 555 | 1110 | 278 |
| 8 | 528 | 1056 | 264 |
| 9 | 500 | 1000 | 250 |
| 10 | 488 | 976 | 244 |
| 11 | 475 | 950 | 238 |
| 12 | 462 | 924 | 231 |
| 13 | 450 | 900 | 225 |
| 14 | 438 | 876 | 219 |
| 15 | 425 | 850 | 213 |
| 16 | 413 | 826 | 207 |
| 17 | 400 | 800 | 200 |
| 18 | 395 | 790 | 198 |
| 19 | 390 | 780 | 195 |
| 20 | 385 | 770 | 193 |
| 21 | 380 | 760 | 190 |
| 22 | 375 | 750 | 188 |
| 23 | 370 | 740 | 185 |
| 24 | 365 | 730 | 183 |
| 25 | 360 | 720 | 180 |
| 26 | 355 | 710 | 178 |
| 27 | 350 | 700 | 175 |
| 28 | 345 | 690 | 173 |
| 29 | 340 | 680 | 170 |
| 30 | 335 | 670 | 168 |
| 31 | 332 | 664 | 166 |
| 32 | 329 | 658 | 165 |
| 33 | 325 | 650 | 163 |
| 34 | 322 | 644 | 161 |
| 35 | 319 | 638 | 160 |
| 36 | 315 | 630 | 158 |
| 37 | 312 | 624 | 156 |
| 38 | 309 | 618 | 155 |
| 39 | 305 | 610 | 153 |
| 40 | 302 | 604 | 151 |
| 41 | 300 | 600 | 150 |
| 42 | 295 | 590 | 148 |
| 43 | 292 | 584 | 146 |
| 44 | 289 | 578 | 145 |
| 45 | 285 | 570 | 143 |
| 46 | 282 | 564 | 141 |
| 47 | 279 | 558 | 140 |
| 48 | 275 | 550 | 138 |
| 49 | 270 | 540 | 135 |
| 50 | 269 | 538 | 135 |